Here is a short practice to introduce to your life as a way of coping with anxiety and stress.
STOP Practice
---
In your journal…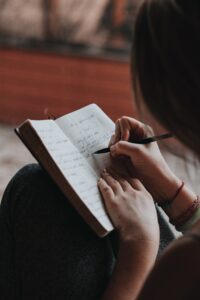 After each practice spend a little time, perhaps a minute or two, in reflection, noticing what the experience was like, asking yourself questions such as these:
You may want to make a note of these questions in your journal for ease of reference.
What did you notice inside your body?
Did you notice where in your body you felt emotions?
Were you aware of what was happening in your mind?
How did you react when you noticed what your mind was doing?
Did bringing awareness to your thoughts change your experience?
Is there a familiar pattern emerging here?
Can you identify your experience with other areas of your life, your relationships for example?
How do you think it would feel to bring compassion in here?
How could you transfer what you have learnt through this practice to benefit your life?