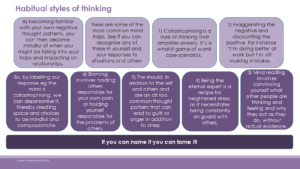 Useful Questions for Exploration:
What are your habitual styles of thinking?
What can you do when you are aware that you are triggered?
"Listen with curiosity. Speak with honesty. Act with integrity. The greatest problem with communication is we don't listen to understand. We listen to reply. When we listen with curiosity, we don't listen with the intent to reply. We listen for what's behind the words." — Roy T. Bennet, The Light in the Heart.
What are five ways to bring mindfulness to your workplace?
Building the Muscle of Gratitude
As with mindfulness and compassion, we can also build the muscle of gratitude which leads to higher levels of joy. Joy is how we develop resilience. By setting the intention to tap into this it makes us feel interconnected, like we're participating in one part of a larger whole.
What do you do that brings you joy?
What could you do to bring more joy into your life?